B. E. A.: THE BULLETIN OF THE EAST AFRICA STUDY CIRCLE


Issued January, May and September, in full colour, and sent to all members.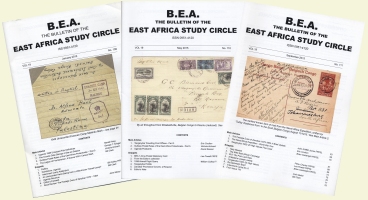 The award winning B.E.A. is recognised as the leading Journal
specialising in the philately and postal history of East Africa.
Members can borrow back numbers of B.E.A. ~ from the Library (in bound volumes) these volumes can be bought - see Publications.
B. E. A. the East Africa Study Circle Bulletin
B. E. A. Notes for Using the Indexes
B. E. A. Contents & Author Index 1-132 May 1979 - Autumn 2023
B. E. A. Thematic Index 1-100 May 1979 - January 2012
B. E. A. Thematic Index 101-120 May 2012 - September 2018


Article Downloads













Edith Furley
and Marcus Falloon


1982 70c on 80c
Kenya Provisional










Early Postcards of
East Africa- Unlisted
Church of Scotland Set


WWII: International
Red X Form with
Identified Sender